I was in Scarborough (not Toronto!) this past weekend for the Oasis Zoo Run, which also doubles as the National 10km road race championships. After finally getting in a race last weekend at the Eastside 10k in Vancouver, I was pretty excited about racing against some of Canada's top road racers.
My coach (Rich) and I actually came up with a bold plan to go hard from the gun, try to get a big lead and hold on for dear life. This plan had two rational reasons in my mind, that in combination made the strategy seem doable: 1) the other top guys in the field were training for the marathon and might be running on tired legs, 2) The Zoo Run course is terrible, and I particularly struggle on the sections with lots of little turns and ups and downs. The best running on this years course could be done in the first 4-5km. So, going out hard would take advantage of that.
As it turns out the lead I had in this picture below is about as big as the lead ever got. I hit the first 1km in 2:42, pretty darn quick. Unfortunately it wasn't in me on the day to push harder from 2-5km. I knew I needed to be 14:30 or faster and a good bit in front to hold on once the course started twisting and turning and making me dizzy.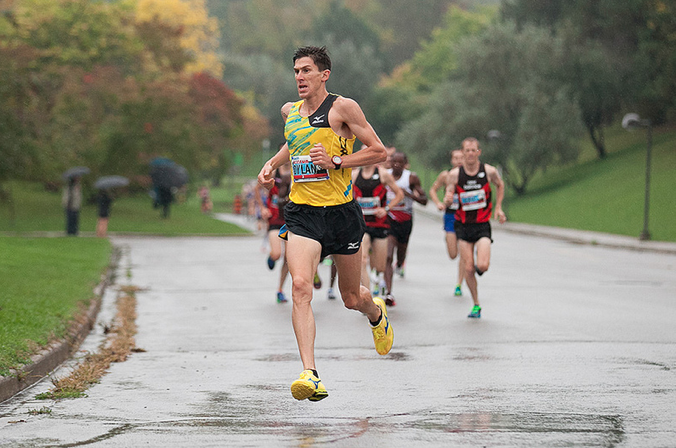 But I got to 3k in about 8:40 and 5k at 14:40. At that point Reid & Eric were only a few seconds behind. I eased off a bit, knowing they would catch me, hoping I'd have the energy to go with them. Once they caught me they went by pretty hard and fast. I was able to hang in there until about 7k, but then I started losing ground. I tried to keep my loses to a minimum and even claw my way back from 8-9km. But, once we got to 1km to go I knew I was out of it and just got to the finish line, 4th place in a time of 30:11. Results can be found here.
I was initially, and still am disappointed with the end result, but have to keep things in perspective. Though I feel like training is going well and I'm fit, after such a long absence things aren't going to click in the races straight away. Also, Reid and Eric (and Kip) are top class athletes and I had to really be on my game for that race strategy to work out. But, it was worth a try, and it worked on Rob Watson, who likes to employ that strategy himself from time to time.
Next up is the RNR San Jose 1/2 marathon on October 6th. I'm looking forward to running a 1/2. I love that distance and seem to be able to post a decent result no matter what type of training or stage of my training I'm in.