Wow, summer has really flown by.  I wrote a draft of this blog back at the beginning of August, meant as recap of what I was up to in July. Then all of August happened without me getting back to it. But, here's an update:
For me July started in my hometown of Kingston, ON at the Limestone Mile. I ran this event several times in high school and again after I graduated from university. It was fun to get back to Kingston and see that the running community is alive and well. There were some great performances, and I was especially impressed with the turnout for the kids race. Maybe there is a future Olympian in the mix there somewhere!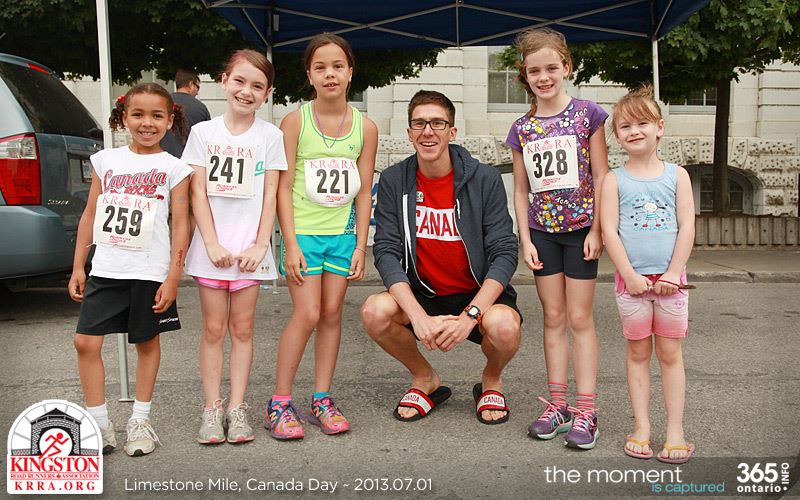 After being in Kingston I flew out to Vancouver for a short training camp. For me this was a great stepping stone in my training. When I went to Vancouver I was at the point where I was feeling ok, able to handle 70-75 miles per week and a bit of cross-training, but no real significant or structured intensity. I left Vancouver with a few good workouts under my belt and feeling confident that my body is willing to cooperate and handle a little bit of intensity.
It was fun to be back out in Vancouver running on some familiar trails and with a good group of people. I was able to join Rob Watson and new Vancouver resident Kelly Wiebe for a few workouts. It was great to rub shoulders with these guys and see Rob hit some big marathon training workouts. He owes his 20th place at World Champs to me for pacing him through 8k of a 35km tempo!
After Vancouver it was back up to Parliament Hill for a few weeks. Luckily I missed the worst of the humidity there. And, I actually really enjoyed my training in Ottawa in August, for the most part. I found some new places to run and was putting in some workouts that made me feel like getting back to my old self might be a possibility. One particular workout was a 4mile 'tempo' that I did in early August where I hit 19:05. Even though the effort was far above threshold, I knew by running 3:00/km pace that I was getting in decent shape again. August in Ottawa was also a good time for me to continue working with some new athletes as part of my coaching endeavour with Mike Woods – Mile2Marathon Coaching. The groups on Wednesday & Saturday mornings were small, but a very dedicated bunch and I'll miss coaching them in person, but look forward to continuing to help them become better runners.
Now, all the stars have aligned and I find myself back in my old stomping grounds in Vancouver. I'm looking forward to getting settled in and getting in a good groove here again. Recently, my coach Richard Lee accepted a job with BC Athletics as Provincial Coach – for Endurance events- you can read more about that here. He possess one of the best minds of anyone I've met in terms of developing and implementing a high performance training plan. Over the years he has made me realise it's not just about the workouts you do, but also about having an appropriate plan and structure in place that can make attaining your goals more realistic. BC Athletics is lucky to have him, as are all the athletes he is coaching. I'm excited for some of the opportunities that may arise for me and his other athletes as a result of his new position.
Despite the ups and downs and backs and forths' from East to West, over the past few weeks I've continued to progress nicely in training. I've put in some tempo running around Stanley Park, a 5x1600m workout on the track at UBC, and some other fun stuff. We're still trying to find a balance between increasing milage and intensity. This week, instead of hitting the track for a second time we did a workout of 400 'hard'/200 'cruise' on some gravel paths around Burnaby Lake. The pictures below are from yesterdays long/progression run in North Van. It was my first time running at this location it was a nice change.
I'm happy to say that I'm only 6 days away from my first race in over a year. I'll be lining up and lacing up some new Mizuno Racing Flats at the Eastside 10k in Vancouver on Sept 14th. I haven't raced since the Olympic Games Marathon on August 12th of last year. Needless to say I'm a little nervous, a little anxious, and a whole lot excited to get back out there. I love the process of training, but I love racing more and it's been a very long 13 months without it.
Thanks for reading!